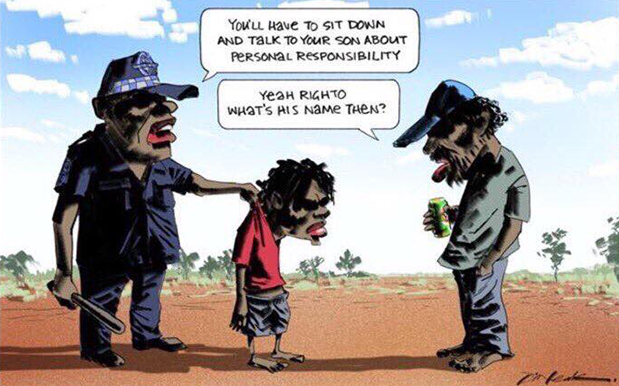 Vu sur le site du Washington Post :
SYDNEY — Emboldened in part by the rise of right-wing populists like Donald Trump, Australia's conservatives are using an official investigation into a cartoon to pursue a long-cherished goal: They want to dismantle a law protecting minorities from abuse.
Conservatives have expressed outrage at — and skillfully exploited — a decision by Australia's Human Rights Commission to investigate a cartoon published in a national newspaper controlled by media mogul Rupert Murdoch that was widely condemned as racist.
The cartoon illustrated a police officer lifting up a teenager by his shirt collar. Speaking to an Aboriginal man holding an open car of beer, the policeman says: "You'll have to sit down and talk to your son about personal responsibility." The man replies, "Yeah, righto — what's his name then?"
After receiving a complaint from two Aboriginal men, the commission is considering if the cartoon, published in August, breaches a ban on insulting or humiliating anyone on the basis of race or national origin. Offenders can be sued but can't be sent to jail.
The body that oversees newspaper standards launched its own an investigation after receiving 700 complaints from the public.
The racial vilification law is bitterly opposed by conservatives, who have campaigned against it for years. By portraying the commission's investigation as a dangerous infringement of free speech and bureaucratic overreach, they built enough political momentum to convince the center-right Turnbull government this month to instruct a parliamentary committee to review the law, the first stage to abolishing or changing it.
"It's a bad, bad law but you've also got, frankly, a pretty crook [sick] organization, the Human Rights Commission, which is persecuting people based on this bad law," a former prime minister and leading conservative, Tony Abbott, said in a television interview on Nov. 11.
The review began Nov. 8. In a rare moment of unity, Jewish and Muslim groups are trying to mobilize public support for the law, which they regard as an important protection against oral and written abuse that sometimes leads to violence.
(merci à Catherine Charpin pour l'info)
This racist cartoon has sparked a battle over Australia's hate speech laws
SYDNEY - Emboldened in part by the rise of right-wing populists like Donald Trump, Australia's conservatives are using an official investigation into a cartoon to pursue a long-cherished goal: They
https://www.washingtonpost.com/news/worldviews/wp/2016/11/18/a-confrontational-cartoon-could-change-australias-racial-vilification-law/